Bombers Blue Happy Tongue Full Cheek
---
Bombers Blue Happy Tongue Full Cheek
£104.50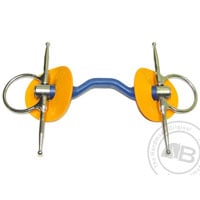 A unique bit, which produces amazing results for the majority of horses.
Ported for tongue relief and very light, can be made with your choice of cheek piece.
The Fulmer, or commonly known as the Full Cheek cheek piece, will have the same effect as the traditional Eggbutt in so much as, it will prevent pinching on the sides of the mouth, however the extended pins above and below the bit, firstly prevent the bit being pulled through the mouth and secondly have the effect of guiding the horses head which is great for schooling and training purposes.
Although we do our very best to keep as many sizes in stock, there are occasions, where we will need to order your item especially in for you. You will be advised if this is the case in your confirmation email along with an estimated delivery time.