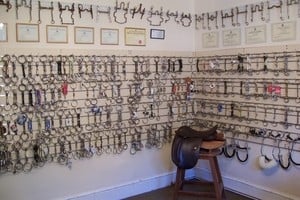 Bit World is run by "PJ" Hutchinson and assisted by her husband Wayne.
It all started back in 1972 when PJs father, Bob Swarbrick established Grimston Saddlery, specializing in hunting, side saddle and polo.
A "two day a week" hunting family in the heart of the Quorn hunting country, they looked after the horses for Captain Fred Barker who was Master at the time. Showing to top level followed both astride and side saddle. PJ then spent some time with work experience at Jennie Loriston Clarke's before a couple of seasons at Walter Wharton's racing yard. A few point to point rides followed including a win surviving an infamous Quorn Members race! PJ then team chased successfully with the Open team of the Teetotalers with Richard Chandler, Gerald and Molly Morgan.
PJ also did all the early road work with Desert Orchid in his younger days.
In the late 80s PJ joined the business and gained her City and Guilds Certificate in Saddlery and Leatherwork and completed two years training in Saddle Making and Bridle Making with CoSIRA.
Wayne has also come from an equestran background with his father riding under rules and his mother running a stud standing two well known stallions at the time called Copperman and No Loitrer. Waynes interest is in the thoroughbred world and has worked at Barleythorpe and the National Stud as stallion man. He has worked with Mummy's Pet, Rousillion, Petong and latterly at Walton Fields Stud with Shahrastani, Karinga Bay, First Trump, Commanchi Run and many more.
Bit World evolved when they decided to specialize in bits and bitting. Having always had a fascination of bits through a collection of bits in which many of the more unusual ones are on display in the shop in turn led to creation of Bit World. The shop stocks all the major makes as well as the standard ones available and many bitting accessories including various styles of unsual nosebands.
PJ and Wayne, when spare time allowed, Private Drive, and were successful with their top pony, Hale Farm Blue Kestrel, going to HOYS (three times), winning at the Royal (twice), South of England, Windsor etc
Wayne and PJ have attended many Equestrian Retailing courses held by Beta over the years including the Beta Lorinery and the Beta Advanced Lorinery Course. In March 2010, PJ became a Myler Bitting Advisor, which is a recent concept of Myler even though we have been selling the Myler bit range for the past twelve years.
Coming from an equestrian background and being in the trade for many years, we feel we are in a position to give sound, practical advice, based on over 40 years experience.
Bit World supply to many leading names in the Eventing, Racing, Show Jumping and Dressage world.
We, at Bit World, pride ourselves in carrying the largest stock of bits in the United Kingdom, with well over 1,000 bits of all shapes and sizes available for immediate sale. We do not only carry popular sizes, nor do we try to push our 'own brand' to the exclusion of a more informed choice. You are most welcome to visit our shop, and to see the vast range on offer, and to discuss with our staff, the solution to your problems. You are even welcome to count all the bits we display to confirm that this is not just a boast, but a fact, that is, of course, if you have an afternoon to spare!
Bitting is an exact science, gained by years of experience; we have found that, very often, your problem has cropped up many times before with other riders, but please, remember, so very often the fault lies with the rider's hands, and not with the horse's mouth. We like to think our vast experience, gained over many years, can be used to diagnose your requirements, We are also aware that, like many things today, some bits suddenly become fashionable. Possibly, because one of our stars has been seen on television competing with a certain bit in their horse's mouth, that it will answer your prayer for an 'arm chair' ride, we will always try to give you an honest opinion, even if this means that we miss a sale, we value you as a customer, and hope that you will come back to us in the future, should the need arise.
Bit World also offers a hire and trial service. For more details on this please ring on 01664 812298. Custom made bits can be made to order and this can take around two to three weeks to be made up.
Three of our favourite quotes.
Taken from the book by the late and much respected Elwyn Hartley Edwards,
"It takes two to pull ! ". and
"No horse was born a puller ! "
Taken from "The Loriner" by Benjamin Latchford, bridle bit, Stirrup and Spur Maker to Her Majesty, HRH the Prince of Wales etc 1871
"I frequently tell my friends, that out of every twenty bits I make, nineteen are for men's heads and not more than one really for the horses' head."
A Horse's Petition to his Master
Going up hill, Whip me not.
Going down hill, Hurry me not.
On level ground, Spare me not.
Loose in the stable, Forget me not.
Of hay and corn, Rob me not.
Of clean water, Stint me not.
With sponge and brush, Neglect me not.
Of soft dry bed, Deprive me not.
Tired or hot, Wash me not.
If sick or cold, Chill me not.
With bits and reins, Oh ! Jerk me not.
And when you are angry -
STRIKE ME NOT.