Bombers Blue Sweet Iron Full Cheek with Spinner
---
Bombers Blue Sweet Iron Full Cheek with Spinner
£86.95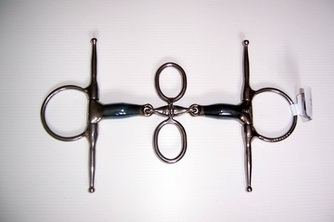 A Full Cheek with a Spinner. Made by Bomber Bits in South Africa. The mouthpiece is a blue Sweet Iron which aids in mouthing.
The Spinner sits on top of the horses tongue and prevents him getting his tongue over the bit.
Please note the blue will fade with use.
Please contact us if the bit size you require is not listed and we will order it in for you.