Sprenger Flex Control
---
Sprenger Flex Control
£76.95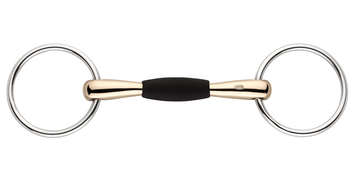 A new bit from the Sprenger range. An 18mm snaffle. The joint in the centre is covered by a soft flexible rubber coating with limits the nutcracker action. Ideal if you need a little more than a flexible straight bar bit.
The flex control is a single jointed bit. The metal joint is covered with a soft and flexible rubber coat in order to protect tender mouth spots of sensitive horses. The moveable rubber part enables the rider to achieve optimal throughness and contact to the horse.
If this item is out of stock with the supplier we will notify you by return.