Stubben Steel Tec Waterford D Ring
---
Stubben Steel Tec Waterford D Ring
£89.50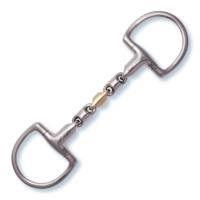 New for 2015 is the Waterford D ring. Currently only available in a D ring.
A comfortable version of the Waterford mouthpiece based on the original Kangaroo style. A smooth multi linked mouthpiece with a generous even butt on either end of the mouthpiece. This protects the lips from being trapped when the links flex.
Widths in cm: 12.5 / 13.5 / 14.5 cm
Widths in inch: 5" / 5 1/4" / 5 3/4"
Ring-Ø: 65 mm
Thickness: 16 mm
With Sweet Copper Link
International article number: 2257
• Horses with the tendency to firmly clench the bit will let loose from the mouth piece and start normal chewing on the bit.
Benefits of Sweet Copper Link:
• Better acceptance
• Pleasant sweet taste of the middle piece
• Encourages chewing and salivation
• Solid copper composition (90% Copper, 7% Iron and Aluminum, no Nickel) with very high strength
• Horses feel good with SWEET Copper
Highest Quality Stübben Steeltec materials and workmanship
• No rough edges that could hurt the horse's mouth
• Long durability due to selected materials
• A special processing technology ensures that bit holes and link pieces remain intact for longer