Happy Mouth Smooth Straight Bar Full Cheek
---
Happy Mouth Smooth Straight Bar Full Cheek
£42.00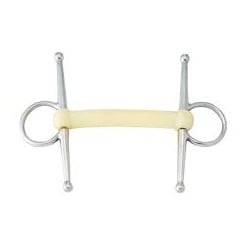 Due to the new rule changes for dressage Happy Mouth have brought out a smooth straight bar which is available in full cheek or loose ring.
They are around 20mm in thickness.
Apple scented soft mouthpiece, non toxic, steel centre. Please Note: These type of mouthpieces are not suitable for all horses. Care must be taken so that the bit is correctly fitted and the horse's teeth and mouth are in good condition.
For a less baulky mouthpiece please look at the Beris Comfort Thin which is around 15mm