Shires Blue Sweet Iron Universal with Roller Link
---
Shires Blue Sweet Iron Universal with Roller Link
£27.00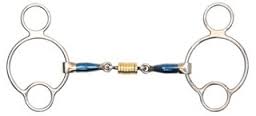 A more modern take on the 2 Ring gag. Quite a strong mouthpiece.
Blue Sweet Iron oxides easily to create a warm and sweet taste which helps with bit acceptance and encourages salvation. The addition of Brass Alloy inserts produce a warm, more palatable bit. The blue colour will fade with use.
Similar to the original Bomber Colin Miles bit.