Bombers BT German Hackamore
---
Bombers BT German Hackamore
£239.95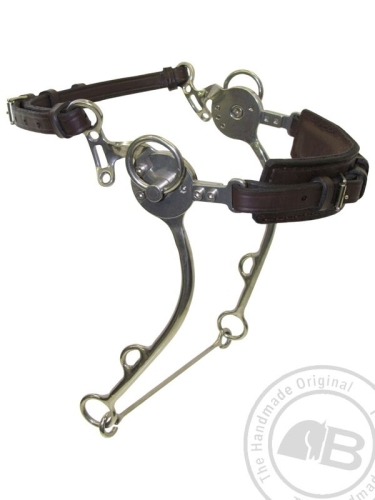 Please allow 6 weeks delivery
Comes with interchangable front and back. You can either have a padded leather front or a flexible rubber nosepiece to give a little more pressure to the front to the nose. For the back there is a choice of either a chain or a leather back strap. Comes with allen key. On the shank there is another rein option.
Dark brown leatherwork. Black to order.
Ideal hackamore for the professional yard.
The German Hackamore is supplied with two nosebands and two back straps.
Front Nosebands
A PVC tube which gives a more concentrated pressure which in turn will bring the nose in.
A Leather padded front which has a softer and broader surface area rewarding a good head carriage.
Back Straps
A leather back strap - this can be fitted in two positions the top position (A) is stronger than (C).
The stainless steel curb chain will be stronger in position (B) than in position (D).
The German Hackamore shank provides two rein settings.
The BT is a cam style Hackamore. It allows for 4 settings by adding or removing screws from the cam.
By leaving Screw A,B and C in place will ensue the quickest application of nose pressure.
Remove A, leaving B and C will allow more rein to be drawn before the noseband is in contact.
Remove both A and B will allow even more rein to be drawn before the nose band is in contact.
Removing A,B and C will allow the noseband to move independantly of the shanks removing nose pressure.
Does come with key and replacement screw.
Please allow 6 weeks for delivery.