Trust Flexible Baby Pelham
---
Trust Flexible Baby Pelham
£128.50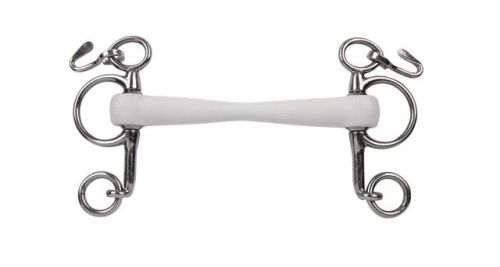 A very flexible pelham, similar to the Nathe mouthpiece. Comes with a curb chain. Ideal for sensitive mouthed horses.
Trust Flexi Soft Pelham
The pelham is delivered with short and long sides. A bit with short sides is called baby pelham. A pelham with long sides is a normal pelham. This bit can be used with one or two reins.

The flexible mouthpiece is designed for horses with sensitive mouths, as it is extremely gentle to the horse's mouth and tongue.

The plastic is FDA Approved and non-toxic. These bits are constructed using a Stainless Steel interior core making them reliable and safe. Trust Flexi Bits are available with different sidepieces such as loose ring, eggbutt, baby pelham and many others. The bits can be recognised by the TRUST logo on both sides of the mouthpiece. All TRUST bits are hand-crafted in the Netherlands.
Pelham
Flexi soft
Thickness: 20 mm